Discover how the rise of self-serve tech is transforming the hospitality industry & how PourMyBeer's innovative solutions can boost your revenue!
Imagine giving your customers the freedom to pour their perfect pint, glass of wine, or favorite cocktail, while simultaneously driving up your profits and reducing waste. With PourMyBeer's cutting-edge self-pour technology, you can make this a reality! From bars and restaurants to hotels and event venues, self-pour systems are changing the game and providing business owners new opportunities to boost revenue and delight customers.
In this article, we'll explore the explosive growth of self-serve technology, its impact on the hospitality industry, and why PourMyBeer's solutions are the go-to choice for savvy bar owners and entrepreneurs. Let's dive in!
The Rise of Self-Serve Technology
Across the globe, self-serve technology is transforming the hospitality industry. With the rapid expansion of craft breweries and a shift towards experiential dining, consumers are increasingly seeking unique and engaging experiences. Self-serve beverage technology not only meets this demand but also offers a myriad of benefits for both customers and business owners.
Self-Serve Beer: A Win-Win for Customers and Businesses:
For customers, self-pour taps provide an exciting and interactive experience. They can sample a wide variety of beverages on tap, pour as little or as much as they desire, and even blend different drinks to create their perfect concoction. This level of customization and control over their beverage choices enhances the overall dining or drinking experience, making it memorable and enjoyable.
For businesses, self-serve beer technology leads to:
Increased Revenue: Self-pour technology has been proven to drive up revenue. Customers tend to sample more offerings and are willing to try higher-priced options, resulting in increased sales and higher profit margins. With PourMyBeer's innovative solutions, businesses can tap into this revenue-boosting potential and see significant returns on investment.
Reduced Waste: No more over-pouring or foamy kegs. Self-serve technology ensures that customers only pour what they want, eliminating waste and maximizing profits. This precise control over the pouring process helps businesses minimize losses and increase profitability.
Streamlined Operations: Free up staff from the time-consuming task of pouring drinks and allow them to focus on providing exceptional customer service and upselling opportunities. This streamlines operations reduces labor costs, and improves overall efficiency, creating a more productive and profitable business environment.
Enhanced Customer Experience: Empowering patrons to take control of their beverage choices enhances the overall customer experience. It creates a sense of engagement, excitement, and satisfaction, leading to increased customer loyalty and repeat visits. With PourMyBeer's user-friendly self-serve solutions, businesses can create a memorable and personalized experience, driving customer retention and business success.
The PourMyBeer Advantage: Unmatched Self-Pour Technology and Expertise
Here's why businesses choose PourMyBeer:
Superior Technology:

PourMyBeer's innovative RFID system ensures accurate pours and seamless transactions. The advanced technology eliminates the risk of over-pouring, ensuring precise measurements and reduced waste. Additionally, the user-friendly touchscreens provide a seamless and enjoyable experience for customers, making self-pouring easy and intuitive.

Customizable Solutions:

PourMyBeer understands that every business is unique. Our customizable self-pour solutions cater to individual needs. Whether it's an intimate taproom, a bustling sports bar, or any other type of establishment, PourMyBeer can design a self-pour system that fits perfectly with your business's requirements. This flexibility allows businesses to create a self-pour experience that aligns with their brand and customer preferences.

Expert support:

Our team of dedicated professionals will guide you through every step of the process, from installation and training to ongoing support and maintenance. Additionally, PourMyBeer offers comprehensive training and ongoing support to ensure that businesses can fully leverage the benefits of their self-pour system.
Case Study: How Malcolm Yards Boosted Profits and Customer Satisfaction with PourMyBeer
Discover how one of our customers, Malcolm Yards, located in Minneapolis, MN, achieved remarkable success after implementing a PourMyBeer self-pour system in their food hall. Malcolm Yards features a 32-tap self-pour beverage wall and a 48-tap traditional bar. When comparing the total revenue from their self-pour taps to their bar, they found some astonishing numbers.
After installation, they experienced:
A significant increase in revenue, thanks to faster service, higher beverage sales, and an expanded customer base.

Streamlined operations, with staff focusing on exceptional customer service and upselling opportunities.

A substantial decrease in waste and product loss, as the system ensured accurate pours and reduced foam.

Glowing customer reviews, as patrons raved about the freedom and fun of self-pouring their drinks.
To learn more about Malcolm Yards' success with PourMyBeer, download the full case study now!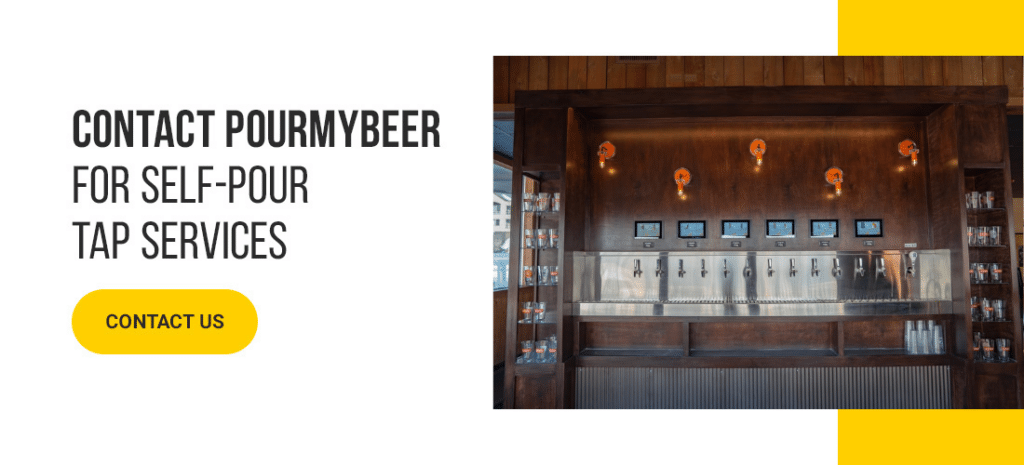 Contact PourMyBeer to Find out More
Are you ready to unleash the power of self-serve beverages and revolutionize your business? Contact PourMyBeer today to explore our innovative solutions and begin your journey towards higher profits, reduced waste, and delighted customers. The future of the beverage industry is here – don't miss out!