How to make your bar
stand out
In this day and age when customers' expectations are increasingly high, attention spans are low, and they have tons of other restaurants and bars to choose from, it is crucial to stand out amongst the rest by using effective marketing and promotional strategies. Customers tend to go for the bar that will create a memorable experience for them, whether it's a food/drink special, a creative event, or a unique atmosphere. When addressing how you can attract more customers to your bar, and have fewer slow nights, take into consideration how you can make the environment more unique and memorable. You want to have that wow factor that's going to keep customers coming back for more.
Explore 36 innovative bar promotion ideas to attract customers and create a memorable experience, such as incorporating self-pour beer and beverage walls, providing gaming tablets for all ages, and hosting unique events like trivia nights and charity fundraisers. These strategies will help your bar stand out and increase sales while building a loyal customer base.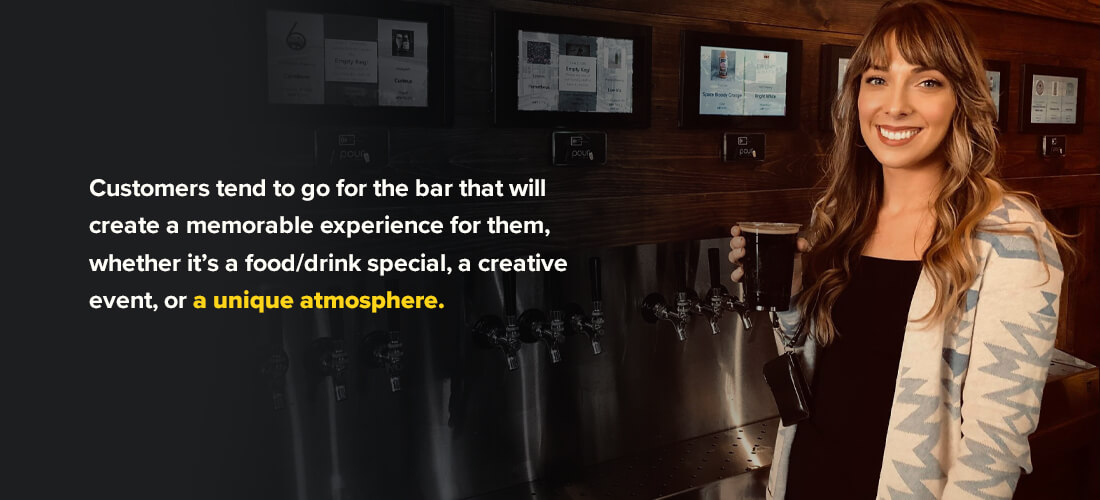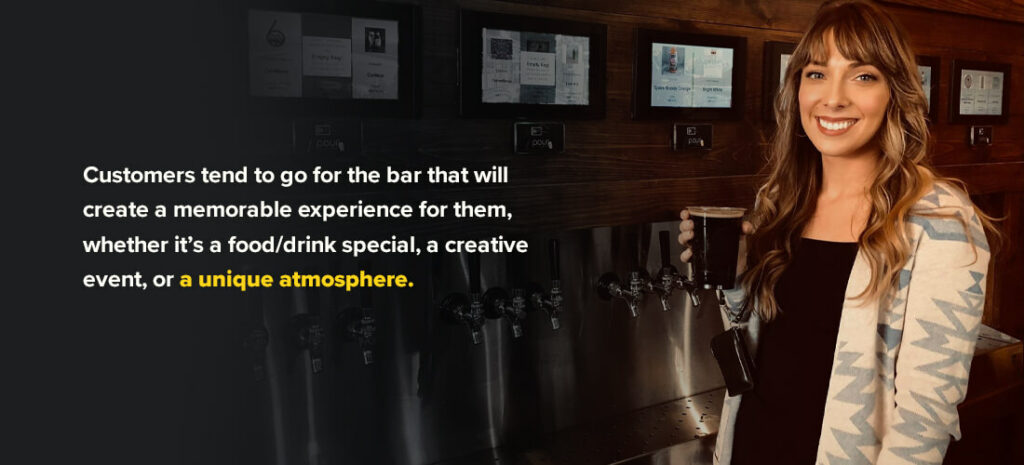 36 ways to bring in customers
When making notable changes to your bar to distinguish your business from others, it is important to incorporate technology. Using tablets or a self-serve beverage system is a great way to show your brand is up-to-date with modern technology. As bars and restaurants strive to become more modern, you will want to adapt your technology to keep up with consumer preferences.
Having tablets available for children is a sure-fire way to make your establishment suitable for various age groups. Tablets will provide entertainment for customers' children and make your business fun and friendly for all ages. You can have tablets on the tables where kids can play games as they wait for their meals, and this will allow your restaurant to stand out, not just to adults, but to their kids as well.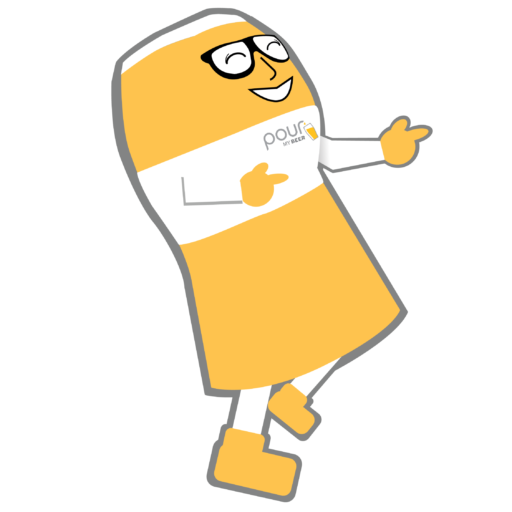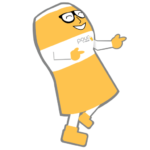 PourMyBeer Tip: Make sure you are wiping tablets down with restaurant-grade disinfectants between guests to stop the spread of germs.
2. Self-pour Beer & Beverage Walls
Self-pour technology has become a revolutionary and unique way of serving drinks. Customers do not have to flag down the server if they want a beverage anymore. They can make a quick and easy trip to the beverage wall in a matter of minutes!
When customers first come in, they will be issued an RFID card upon checking their ID. They can run a tab by leaving a credit card with a staff member, or they can pre-load a dollar amount. Once the RFID card is placed in the slot above the desired tap, the system recognizes the card and grants access. Your customer will then be able to start pouring to their heart's desire!
In a family-friendly environment, such as Dave and Busters and Buffalo Wild Wings, self-pour provides adults with some fun of their own! Customers enjoy their newfound freedom to responsibly sample and refill at their leisure. This means more time for them to socialize!
3. Photo booths for Everyone to enjoy!
There is no better way to capture memories than by taking photos, which is why a photo booth will be a perfect addition for everyone to enjoy. Photo booths are a great way to not only enhance your customer's experience but also bring in additional profit. With fun filters and backgrounds people can use on their photos, this simple addition to your restaurant will make a lasting impression on diners and leave them with a souvenir reminding them of their new favorite spot. Families, couples, and friends will all love it.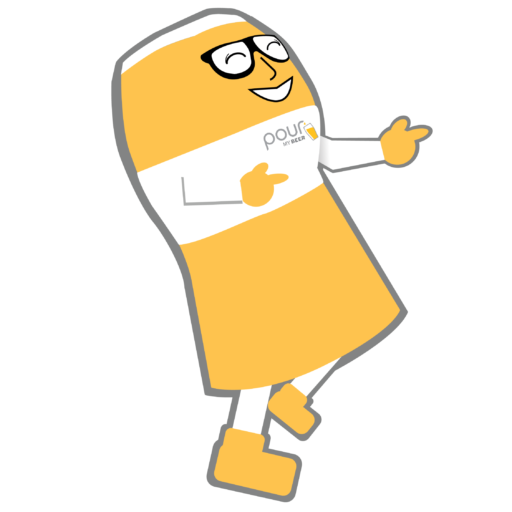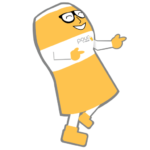 PourMyBeer Tip: Create a collage for any photo booth pictures left behind for customers to look at.
Bar games always make any occasion more fun and exciting, especially when they bring a little friendly competition to your venue! Your customers may be out with friends, family, or colleagues, and having games such as Jenga, darts, and pool available to keep them busy, will give them a reason to stay longer and set your establishment apart from others.
Jenga
You can either use a standard Jenga game or one specifically for drinking to make things more interesting. You can also get a giant Jenga game for extra fun.
Pool
By adding a pool table to your restaurant, brewery, or taproom, you can immediately enhance the environment and give your establishment a distinctive tone and personality.
Self-Pour Games
At your self-pour venue, encourage games, such as flavor identification, to promote your beverage wall and offer a unique selling point to your establishment. Ask customers to identify the beer and the flavor.
Darts
A classic bar game, in which you can hold mini-tournaments and create some fun competition amongst patrons. To make safety a priority, ensure you are using magnetic darts at your establishment.
Jenga
You can either use a standard Jenga game or one specifically for drinking to make things more interesting. You can also get a giant Jenga game for extra fun.
Darts
A classic bar game, in which you can hold mini-tournaments and create some fun competition amongst patrons. To make safety a priority, ensure you are using magnetic darts at your establishment.
Pool
By adding a pool table to your restaurant, brewery, or taproom, you can immediately enhance the environment and give your establishment a distinctive tone and personality.
Self-Pour Games
At your self-pour venue, encourage games, such as flavor identification, to promote your beer wall and offer a unique selling point to your establishment. Ask customers to identify the beer and the flavor.
SHUFFLEBOARD
Shuffleboard, another classic! Table shuffleboard is a game in which players push metal-and-plastic weighted pucks down a long and smooth wooden table into a scoring area at the opposite end of the table. By adding shuffleboard, you'll create more options for people to play, which will keep them in your establishment longer.
SKEE-BALL
Skee-ball is another great addition to your bar. Everyone loves skeeball! You don't have to be good to pay due to its nature of being one of the first redemption games. Not only will it add to your customers' experience and keep them around longer, but it will also bring you in an additional profit!
Special events are the perfect opportunity to pack your bar and bring your regulars back in or even new customers. Think about who you are trying to target with each event. Many bars and restaurants have happy hour events or weekly event nights that bring in a crowd. Events make for a great evening with lots of fun for your customers and profit for you. Hosting these special events can bring customers back in more frequently, creating loyal customers.
PERFORMERS
Having live music at your venue will help bring customers through your doors. Many people love having entertainment while they dine to make for a more relaxing and enjoyable experience. Once a week, you can hire a band or singer to perform a specific genre of music that people will love to listen to, especially in the evening. Make sure that the music goes along with the style of your restaurant or bar so you can better attract your target audience.
KARAOKE NIGHTS
Another way to bring in a crowd is through a scheduled karaoke night. Karaoke is fun for people for many reasons. It allows customers a chance to socialize with their friends or family while acting as silly as they want. Karaoke is also a great stress reliever after a stressful day of work or a streak of boredom. Not only is karaoke fun for the performers, but also those just watching.
Open mic nights allow customers to perform their favorite forms of entertainment, such as comedy and poetry. Open mic is a way in which patrons can openly share their art in an inclusive and welcoming environment which will make them want to come back time after time. Plus, everyone loves dinner and a show!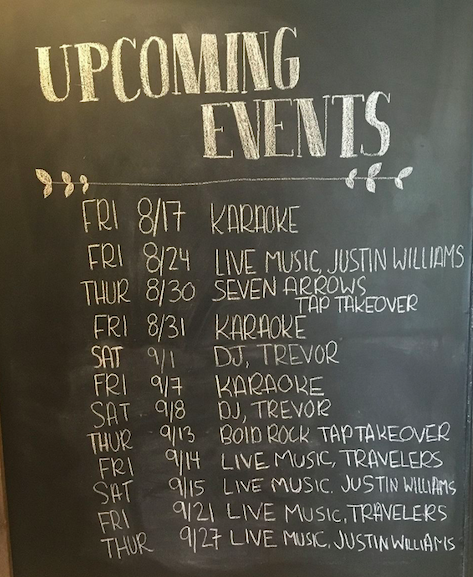 Open mic nights allow customers to perform their favorite forms of entertainment, such as comedy and poetry. Open mic is a way in which patrons can openly share their art in an inclusive and welcoming environment which will make them want to come back time after time. Plus, everyone loves dinner and a show!
Trivia is always a good time, and making a night out of it allows for some friendly competition in your establishment. Friends and family will get into groups to try and answer as much trivia as they can, all while sharing laughs and making some good memories. Offer prizes for the top three winning groups. A good prize is giving out gift cards to your restaurant, this way it will bring customers back.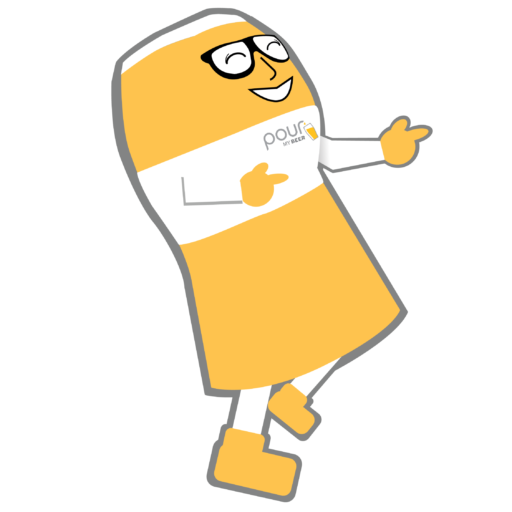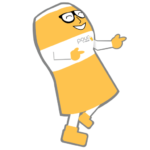 PourMyBeer Tip: Post about your trivia night on your social media channels to get the buzz out.
There's no better way to celebrate the holidays than with friends and family gathered together under one roof, chatting over some good drinks. You can host holiday events throughout the year to bring together customers, whether it's for Halloween, Christmas, New Year, or Easter brunch.
By hosting charity events at your establishment, it will help you present your brand to others and show you are a business that cares! It is a great way to get your name out while also doing some good for your community, which is the most rewarding part.
Viewing parties are a great way to get large numbers of people into your establishment. Think of the top trending shows that air new episodes weekly, like the Bachelor. By hosting a viewing party on Monday nights for Bachelor Nation, you'll get a steady number of customers coming in each week. Theme your food/drink specials with the featured show, and encourage patrons to dress up and get into the spirit of things.
Everyone loves a good paint night, especially when friends and booze are involved. Customers don't have to be good at painting to attend a paint night. They just have to show up and do their best. Make sure to provide all the items needed for a paint night: canvases, paint, paintbrushes, and beer! Paint nights are a great way to bring in an additional profit. Charge customers a fee at the beginning of the night to ensure all the supplies they will be using are covered.
To bring in AND retain customers at your restaurant or bar, you should think about how you can go the extra mile to make your business stand out from the crowd. You will want to do all you can to make your customers fall in love with your establishment. You need unexpected touches to make your guests feel welcome and make your restaurant or bar memorable.
Using fresh flowers will give your environment a lively and brightened aesthetic that will tie the room together and add a touch of personality. Use flowers that go along with your color scheme and style, as you wouldn't want to put red roses in a sports bar.
14. Interesting & Clever Bar Menu
As a business owner, you must distinguish your brand, and in doing so, you should opt for interesting-looking dishes and pottery, such as unique plates, bowls, and glasses. This way, your plates of food will stand out, and the meal will look pretty, so people are more likely to take pictures and post them on social media. Free advertising right there! You can find what you are looking for at many home furnishing and wholesale restaurant stores.
15. Designated driver program
With a designated driver program, you can show your community that you care for their wellbeing and appreciate their business. Many bars offer free Uber or Lyft when patrons have no way of making it home, as they want to make sure customers are not picking up the keys when they have had too much to drink. Along with this program, some bars also offer free Uber or Lyft rides to help women who may be in an uncomfortable situation, like a date gone wrong.
16. After dinner treat / COMPLIMENTARY DESSERT
A piece of Belgian chocolate, or ideally, something small made in-house can go a long way to make you stand out with your reviews. Having a good dessert variety is another great revenue stream, as customers won't feel the need to go elsewhere for an after-dinner treat.
Offering a complimentary dessert can go a long way if you know that your guest is celebrating a special event. Surprise them with a free dessert. It can make them feel special, as they should!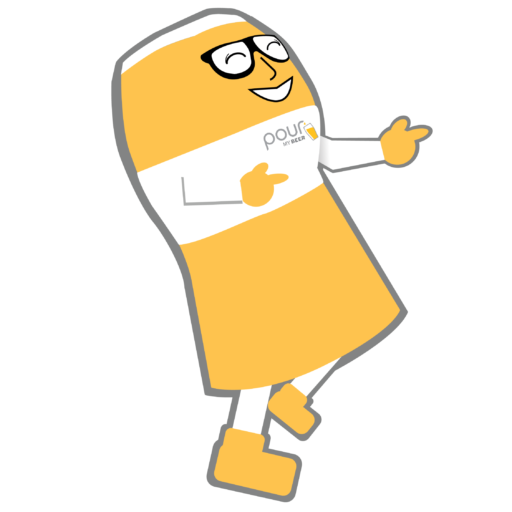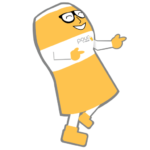 PourMyBeer Tip: If applicable for your business – use a different color mug for regular versus decaf coffee to make it easier for your staff when running refills.
Coasters are a great way to market your business and present your brand to customers. You can include the name and all your business' information, even the story of how your business came to be. A unique coaster can stand out, and some people even like to collect them!
If you have an outside patio, you may want to offer inexpensive sunglasses – branded, of course! If your guests end up leaving with the glasses on, they got a little present, and you got your branding advertised all over town.
If your business offers merchandise such as t-shirts, glass pints, keychains, stickers, etc. it will be a lot more memorable for those paying a visit. People love collecting t-shirts from their favorite spots to remember their trips and to show support to their favorite businesses. With souvenirs and branded merchandise, your business will stay on the top of their minds.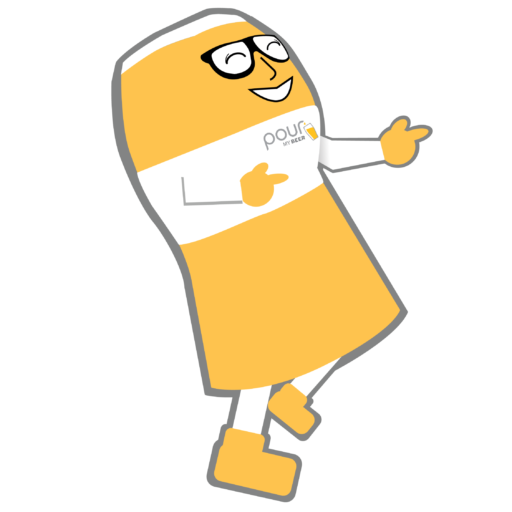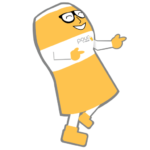 PourMyBeer Tip: Give your cute merch more visibility by having your staff show it off by wearing it. Also have posters about it in the bathrooms and other appropriate areas. Sometimes table tents promoting the merch are a great idea, too!
Candles on the table will give your establishment a cozy and comforting vibe, whether you choose to go with electric or wax tea lights. They will enhance the atmosphere of your space, especially if you are focusing on making it romantic or intimate.
Another way to show your customers that you care is by offering complimentary bottled water or water tanks with cups for customers to refill. Though this is more practical if your business is a bar where customers will be drinking. It will be a good way to ensure that your customers aren't overdoing it and staying hydrated, especially in those hot summer months.
22. Buckets of ice for sodas & beers
If you are serving a group of people and they are opting for bottled beers rather than draft, you can make their visit more pleasant by providing a bucket with ice for them so they can keep their drinks cold throughout their dining experience.
23. Staff names & their story on the menus
If you have employees that have worked with you for years, highlight them, and make them feel special. Many customers like to know who is serving them, and it can make for a pleasant interaction between them and their server.
24. Display upcoming specials & promotions
By having cards or a special board promoting upcoming events and food or drink specials at your establishment, you can influence their decision to come back soon. They can see what you have in store for your business and decide which days they may want to come to visit. Whether there's a special for Taco Tuesday, or Wine Wednesday, customers can plan their week accordingly.
If you sell beer on draft, whether it is from self-serve or traditional taps, promoting a "Mug Club" is a great way to make the beer-loving customers come back for more. All they have to do is pay a fee, and then members can get discounts for their favorite beers, get exclusive member-only offers, and more. You have the freedom to add your creativity and make this club what you want it to be.
26. Calculator with the check
Offering a calculator with the customer's check makes it simpler for them to split bills, calculate tips, etc. It is just a little token of your appreciation for their business and will make things easier for them.
27. Special Names for Menu Items
A great way to encourage your customers to visit your establishment more often is by offering personalized menu items named after the regulars. This is a creative way to tie your guests to your restaurant. It can also be beneficial to name either your establishment or specific menu items after a college or high school that is in your community. This will certainly popularize that menu item.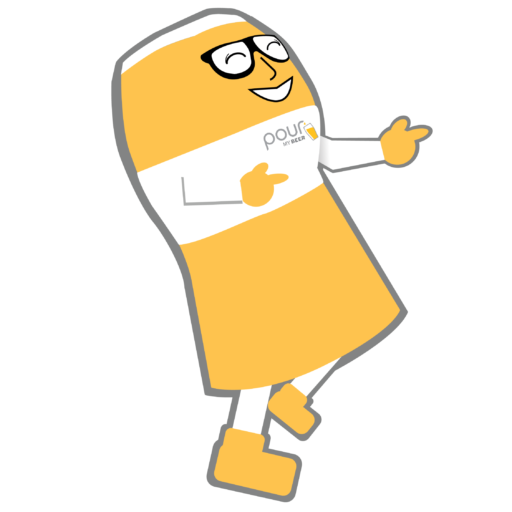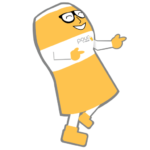 PourMyBeer Tip: If you have sports teams or clubs that hang out at your establishment, name a style of pizza or cocktail after them. This will show them how much you appreciate their business.
Your guests are ready to go home, but they are not done; they want the fun to continue! With a properly laid out and executed growler program, you can easily bring in an additional 12-15 dollars from 30-40% of guests that walk through your doors. Get creative with this idea. Create an intriguing name, vamp up your advertising, get customized growlers, and be sure to ask every guest before they leave if they would like to take home a delicious beer they drank tonight in a growler. This unique differentiator will be sure to get guests running back through the door whether that is to dine-in, or stop by, grab some take-out, and a growler to go.
The world is becoming more focused on physical fitness and mental health and what better way to get customers into your establishment than to focus on these new trends. You can position your establishment as a yoga/fitness establishment especially if you are near a fitness center. Have cubbies for customers to park their yoga mat or gym bag. Enforce that your establishment is a casual environment where guests can come dressed in their gym clothes after their workout. Offer healthy, high-protein, post-gym options to ensure your guests will love this new post-workout hangout location. Also, consider having menus to meet certain dietary needs such as vegan, paleo, or vegetarian. This will ensure there is something for everyone!
30. Run a Loyalty Program
Running a loyalty program is a great way to keep customers coming back and gain new customers while increasing overall profits and sales. First and foremost, you'll need to come up with a good name for the program. Then you'll need to figure out what kind of rewards you want to offer and what actions from customers you want to reward. You'll want to make sure these rewards are valuable to customers. A couple of great options are free merch with your logo on it or free food/drink of their choice the next time they come in.
Positioning as
Family-Friendly
With kids making up 27% of the world's population, it may be a good idea to consider implementing a family-friendly mentality in your establishment. To position your establishment as family-friendly, there are some small tweaks you can apply to your business environment. Remember, everyone may not have human kids, they may have fur babies, and they are just as important to pet owners.
31. Children's Seating Options
31. Children's Seating Options
You can provide high chairs on wheels for children so that they are easy to move. This allows parents to move their children around the table if they need to push them closer to the table or closer to them for any reason.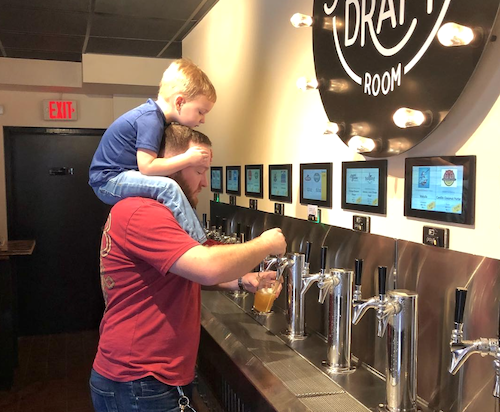 There can also be a separate area for nursing in a backroom or a family-restroom. This can be a fantastic thing for mothers so that they don't have to feel uncomfortable or leave the establishment to nurse.
33. Kids Menu & Silverware
As a family-friendly restaurant, you can also offer kid sized and styled glassware as well as silverware, to make eating more fun for smaller children. Many restaurants offer kids menus with a smaller portioned meal and an included drink and dessert. The drink will sometimes come in a reusable plastic cup with a fun straw. Kids can bring home this souvenir and will keep your restaurant in mind!
34. Kid-Friendly Souvenirs
Another souvenir idea for children to take home is if you have a gift shop or branded merchandise, offer some fun stuffed animals with your logo or of your mascot. More branding will remind your child of your place and make them want to go back. Lastly, free balloons always make for some kid-friendly fun. Make sure to have your logo put on them, and when the child leaves your establishment, people outside will see your restaurant name. More inexpensive advertising!
35. Area for kids to play
Creating a safe environment for kids to play freely is a great idea if you are thinking about presenting your establishment as family-friendly. Not only does it put the parents' minds at ease, allowing them to enjoy themselves without having to worry, but it puts your mind at ease as well. You won't have to worry about kids running around and disrupting other guests' experiences. An area for kids could mean installing a playground outside if you have the space or a kid's corner inside with board games and toys. Kids will love that they have their own area to hang out in and make new friends.
Just about half of the population has dogs, so what better way to increase foot traffic than to make your establishment dog-friendly? If you are located near a dog park, this one's for you. Consumers love to get out, but having the stress of your poor dog sitting at home alone will shorten their time out on the town.
Give owners the option to enjoy the night out without the concern of having to go home to take the dog out and feed it. This will increase the time they are at your establishment which will result in higher sales. Create a dog-friendly menu so the pup can enjoy themselves just as much as their owner with things like treats and bowls of water on it. Who wouldn't want to be surrounded by cute little fluff balls all night?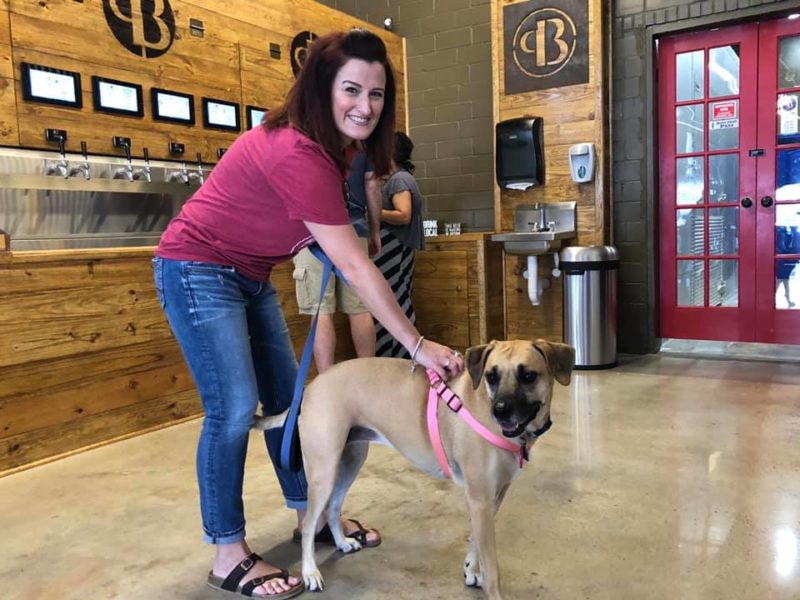 Promoting Your Bar Specials
Take steps to spread information about deals at your bar or restaurant to potential customers so that they can take advantage of them. Consider some of the tips below to help you promote your bar specials.
Promoting your bar through social media sites like Facebook and Instagram is immensely popular and offers direct pathways to your customers. You should routinely post pictures and videos, respond to comments, and engage with followers to create meaningful lines of communication. You can share daily specials, repost customer photos or introduce your staff via live streams. Many social media platforms allow specific targeting, allowing you to reach the specific demographic you want to appeal to.
Online Contests and Giveaways
While using social media, you should consider running an online contest or giveaway. These events can be great ways to expand your reach and attract more customers to your brand. You can use contests to entice users to like, comment, tag friends, and share posts to win a prize, which could be gift cards, T-shirts, or free dinner and drinks.
Online Advertising and Marketing
Optimizing your online presence with an advertising strategy will make finding your restaurant or bar easier for customers. Many restaurants will launch a website and start a blog to climb the search engine results pages and display their expertise. Once you know your goals and target audience, however, you can choose from a handful of other strategies, including pay-per-click advertising, Google Ads, email newsletters, and search engine optimization.
Online Ordering and Delivery Services
Customers often favor restaurants that offer online ordering and delivery services. These features allow them to remain in the comfort of their homes while they enjoy meals that they could previously only get in a sit-down setting.
These additions are also good for your business. They redirect the time spent taking orders by phone to creating high-quality dishes and tending to customers within your establishment. Offer discounts for those who order online and promote these services any way you can, such as on signs, receipts, your website, and coupons.
Mobile Loyalty and Rewards Apps
The plastic cards traditionally used for rewards programs can be cumbersome and easy to lose. Instead, replace them with mobile rewards apps to simplify the customer's experience. Creating a mobile app for your restaurant or bar will allow you to reach customers around the clock. This method also lets you provide personalized messaging and news, special offers, coupons, and promotions.
Digital Signage and Menus
Digital screens offer more utility than you may think. With a smart TV, USB, and some attractive images, menu designs, and videos, you can transform your customer's experience within your bar. Including digital signage will grab your guests' attention and communicate crucial information regarding your meals, discounts, events, and so much more.
To view more ideas for events you can host at your establishment, click below!
If you have any more ideas for how to bring in customers to your establishment, we would love to hear it! You can call us at (312) 416-9989 or send us an email at cheers@pourmybeer.com.