How to Prepare for the post-covid
Rush
Remember the weekend rush when your establishment was filled with customers, people were dancing, drinks were pouring, and sales were flowing? Us too.
It's been a tough year (to say the least). Actually, it's been the most difficult year the hospitality industry has ever faced. And while it can't be determined exactly when restaurants and bars will begin operating at full capacity, it's important to plan so your bar or restaurant will be ready when that rush hits once again. Things won't bounce back to normal in a day, but after operating at reduced capacities for months on end, you'll need to make some changes to bring your profits back up.
Each year, The National Restaurant Association releases a State of the Restaurant Industry Report. And it comes as no surprise that the 2021 Report has some alarming statistics as a result of the turmoil the hospitality industry faced in 2020 due to COVID-19.
Last year, The National Restaurant Association predicted that sales from the industry would

total $899 billion

. However, the restaurant industry only made $659 billion (

$240 billion below what was predicted

).

More than 8 million employees were laid off or furloughed.

According to 60% of the operators studied, they say their operational costs (as a percentage of sales) are higher than before COVID.
But don't let these statistics scare you. 88% of customers were reported saying they enjoy going to restaurants and the experience that comes with dining out.
So until the day comes that your operations are back in full swing, we're here to help you prepare. Be sure to check out this list of 28 Tips for Your COVID Strategy where we have compiled everything you'll need from on-premise adjustments and reopening checklists to make sure you have a complete COVID plan in place. We have also created a COVID Resource Center with helpful tools and checklists.
Now, let's get your restaurant ready for the post-COVID rush! Below, we've included several ways to prepare your staff, adjust your operations, and update your online presence.
Think back to before COVID-19 hit. How many staff members were needed to work a busy Friday or Saturday night or lunch rush? Once the post-COVID rush hits, you'll need to ensure that your restaurant is ready to adjust back to those busy times. As capacity levels increase, you'll want to take into consideration that you'll need more staff. Be prepared to bring back old staff members or hire new staff. Whether you choose to bring back staff members or hire new employees, make sure that all employees are aware of the policies you have in place regarding safety, sanitization, and overall customer service. And make sure that you continue to monitor the health and safety of all staff members.
Once you've hired more staff to adjust to the rush, it's time to make sure each staff member is properly trained and refreshed on your safety practices and protocols. It is crucial to refamiliarize staff on cleaning procedures to keep safety as the top priority. Don't expect your staff members to remember everything. Consider scheduling a few days dedicated to training your staff before the regular opening at 100% capacity. This is a great way to educate employees and keep them up-to-date on the most recent policies enforced in your establishment.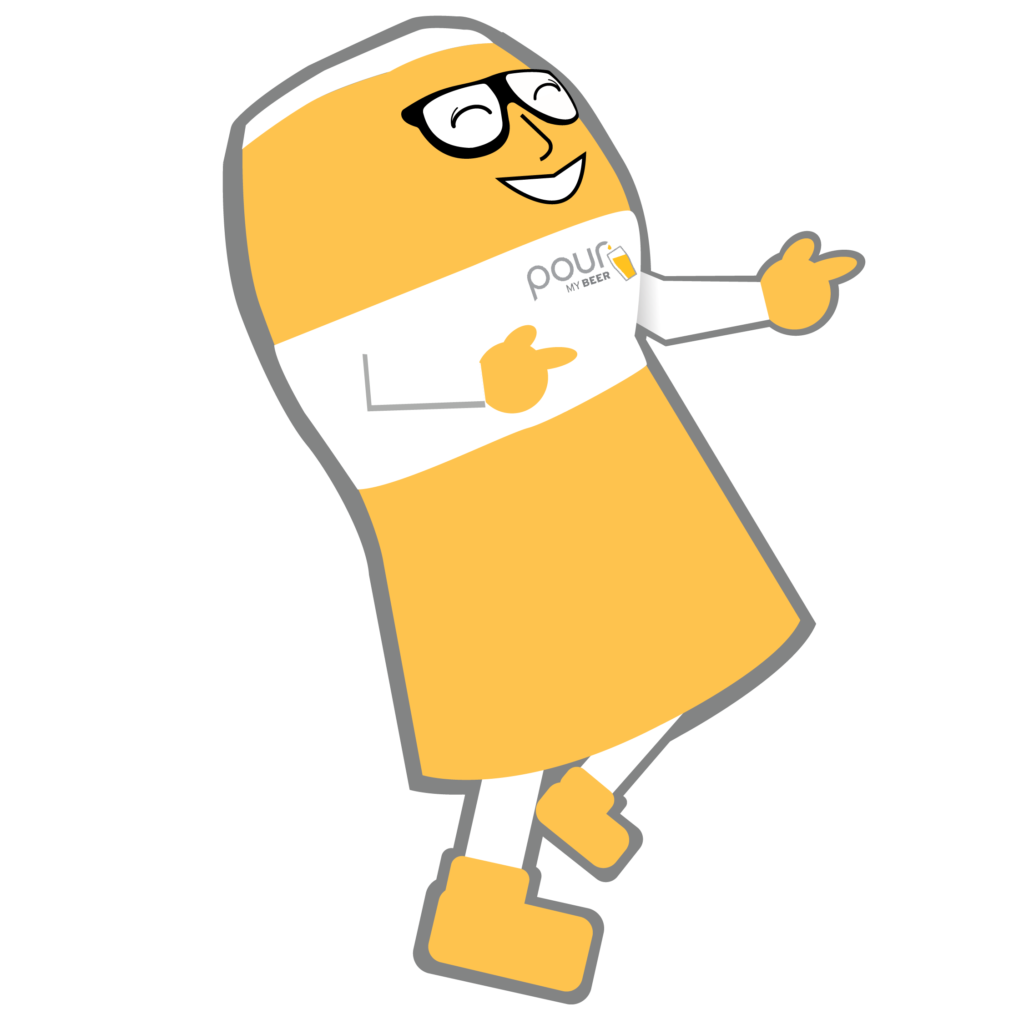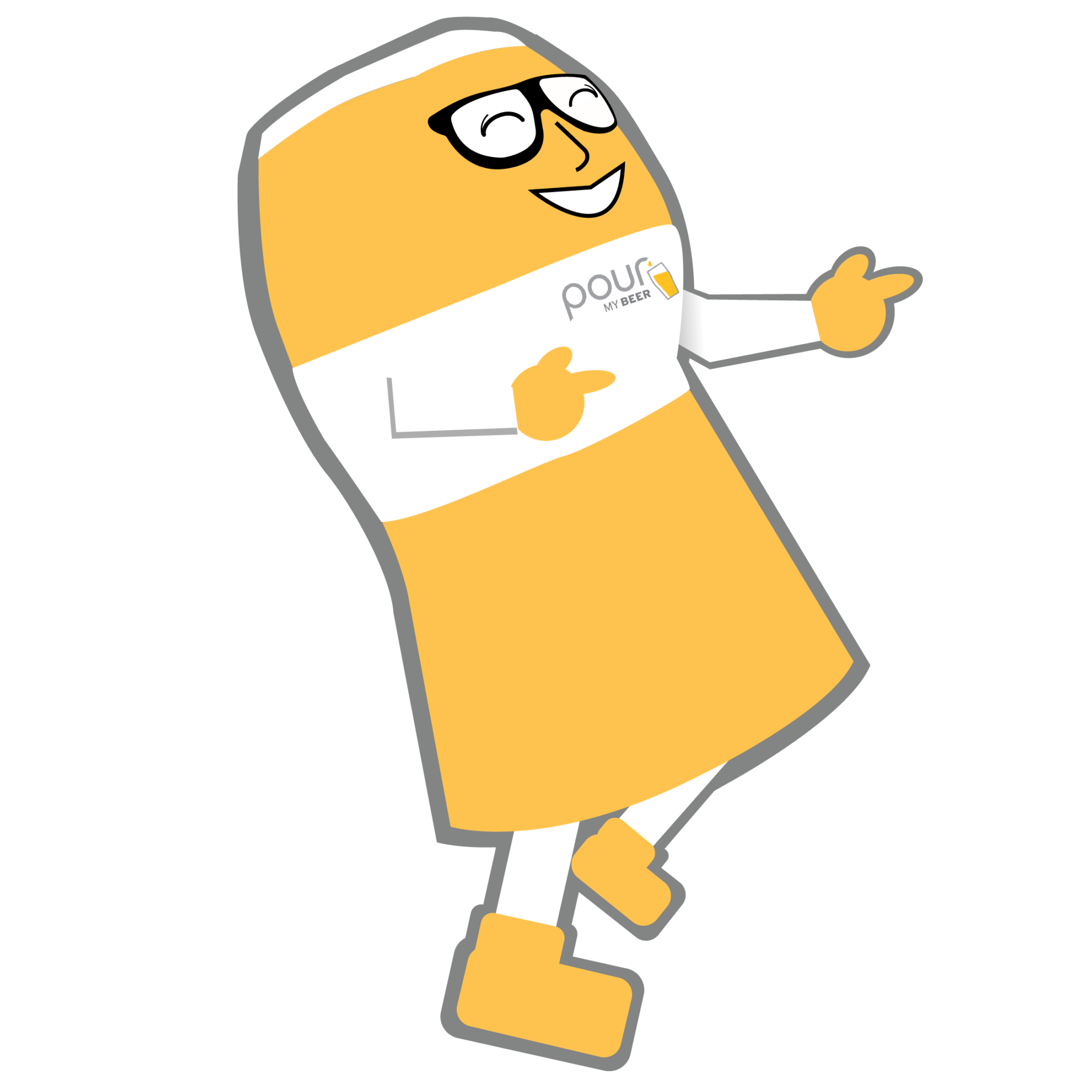 PourMyBeer Tip: Keep in mind that your employees will be adjusting to working in a full capacity restaurant and might be overwhelmed. Continue to check in with your staff frequently on their mental health and job stress. You do not want your team to feel undervalued or unsupported.
3. Maintain Communication
Ever heard the saying, "Communication is Key?" This holds true with both your staff and your customers. As the owner of your establishment, communicate with your staff so they're properly equipped to answer questions asked by guests. Staff should effectively communicate all of your new safety procedures with guests when they enter or sit down at the table. This will ease the minds of your guests as they'll feel you're taking their health and safety seriously.
Establishments that have used technology as a competitive advantage have seen great success, especially throughout the pandemic. They have seen increased engagement with customers through their digital presence, online ordering, and digital loyalty programs. The move toward digital offerings left customers feeling safe and willing to order out. After living in fear of the pandemic for nearly a year, these safe and touchless options are not going away anytime soon.
QR codes have become the new normal – they're everywhere! QR codes give customers access to online menus, making life easier for operators, too. Not only are online menus reducing the spread of germs, but they are easier to adjust and update since they're entirely digital. Not to mention they come with other benefits such as reducing cost and minimizing waste. You no longer have to wait to update your menu by season because of the hassle that comes with printing them out.
Not only are QR codes more sanitary, but they also drive traffic to your website. Use them as an opportunity to steer guests to a landing page where they can see your menu, but also join a loyalty club or sign up for your newsletter so they can stay updated with upcoming events and specials. This will help you gain loyal customers and give you valuable information which you could then use to target them in the future.
5. Mobile Ordering/Cashless Checkout
With the rush of customers that will come through your doors, you might want to implement a quick, easy, and sanitary ordering/checkout process. Mobile ordering can be beneficial for both on- and off-premise dining. If a customer is easing back into their normal routine, they may start with mobile ordering for pickup. Their order will benefit your business, and you'll stick out in their mind as a venue that has made adjustments to COVID. As for on-premise dining, mobile ordering can reduce face-to-face contact between wait staff and customers. This will free up servers to focus on other aspects of operations and create a better overall experience for customers.
Cashless checkout is great for increasing efficiency and keeping customers safe. During a normal checkout process, a server places the bill on the table, the customer puts down cash or a card, the server has to pick it back up, run it, then return it to the table, and finally, the customer can sign. That process takes time and does not maximize your customer flow. The faster customers can get out, the sooner you can flip their table and seat new guests. With cashless checkout, you will reduce the customer checkout time and create a safer interaction than handing back and forth cash or a credit card.
As mentioned earlier, 60% of operators surveyed in the National Restaurant Association's 2021 Restaurant Report said their operational costs are higher than before COVID hit. And now that it's time to prepare for the post-COVID rush, you'll want to simplify your operations as much as possible while increasing your competitive advantage. A great way to do this is by implementing innovative technology that will increase your efficiency, maximize customer flow, and create a COVID-safe environment. PourMyBeer's self-pour technology does just that, and it's a great solution in the post-pandemic world!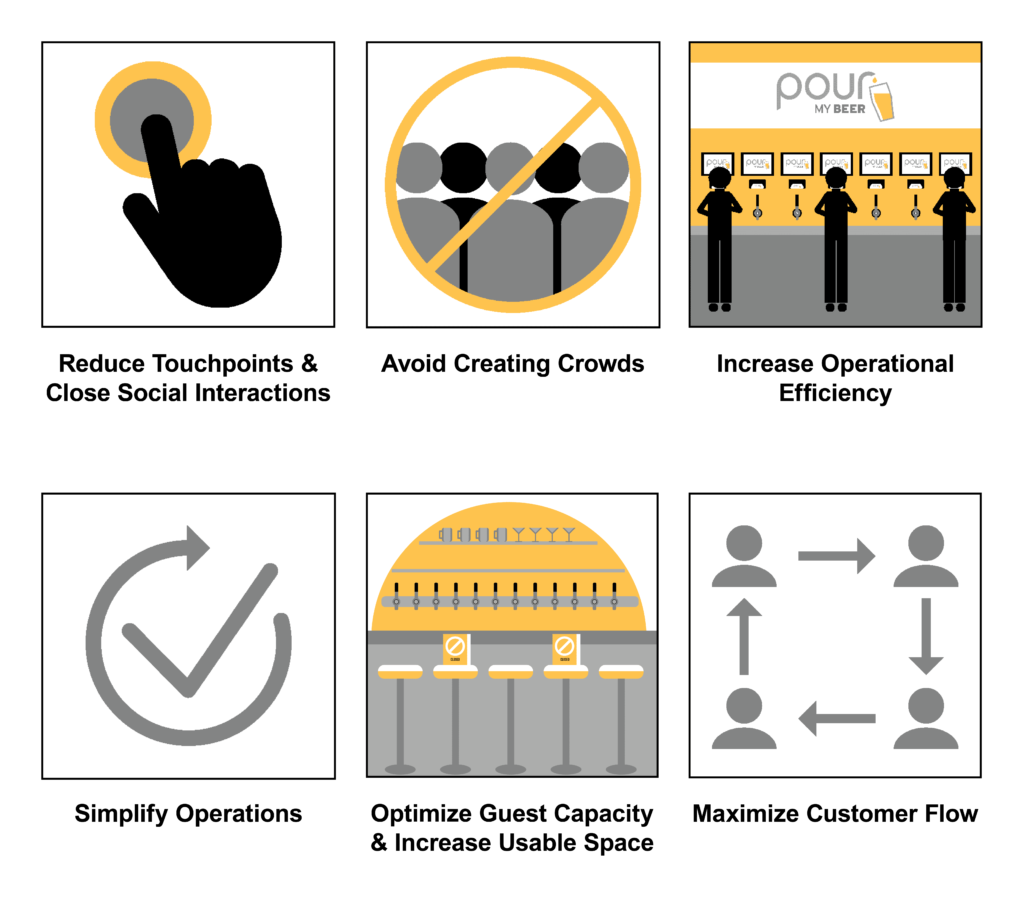 Self-pour technology will enable your establishment to optimize usable space as the self-serve beverage wall eliminates the need for a big and bulky bar, allowing you to serve more guests inside your establishment. It eliminates large crowds and lines that form at a traditional bar, and guests can approach the wall to pour when they feel most comfortable. With self-pour, guests are the only ones touching their glass. No more handing off a glass between servers and bartenders. The guest is in full control of their entire drinking experience. Because of this, guests can pour and drink at their own pace, so your establishment will maximize customer flow rates. The quicker guests get in, drink, and leave, the quicker you can flip the table for new guests to join.
A self-pour beverage wall will also reduce staffing challenges as fewer staff members are needed to run operations efficiently. Since servers no longer have to take drink orders, they are freed to focus on other aspects of operations, such as cleaning and sanitizing.
Self-pour will make your establishment stand out against competitors because you are providing guests with a unique experience that they can't get everywhere else. They'll love that they can pour their own beverages and pay by the ounce!
Continue to show cleaning efforts. A Future of Dining Study found that 3 out of 4 diners say the biggest reason they would stay away from a bar/restaurant is due to health and safety concerns. It's crucial to make cleaning a top concern within your establishment and make those efforts visible to your guests.
Customers will feel safer and be more willing to dine-in when they actively see staff cleaning. Although guests might still be hesitant to eat in your establishment for quite some time, it will give them a sense of security. Once they see your cleaning measures, they will be more likely to return to your restaurant/bar. Customers are looking for visible signs of cleanliness. Place signs on tables once they're sanitized, put a bottle of hand sanitizer on each table, and make sure to have sanitizing stations located throughout your establishment.
Be clear and transparent with your customers. Have signs on the front door stating if you are open and what your capacity level is. Indicate what guests can expect when walking through your doors. Use signs saying masks are required, or that plastic plates and utensils are being used. If customers know what to expect before they sit down, they'll feel significantly more comfortable.
Also, don't remove your floor signs. Telling guests where to stand or placing signs around reminding them to remain 6 feet apart should still be used. When capacity levels first rise, guests will still feel uneasy, so giving them a sense of security will attract more guests through your doors.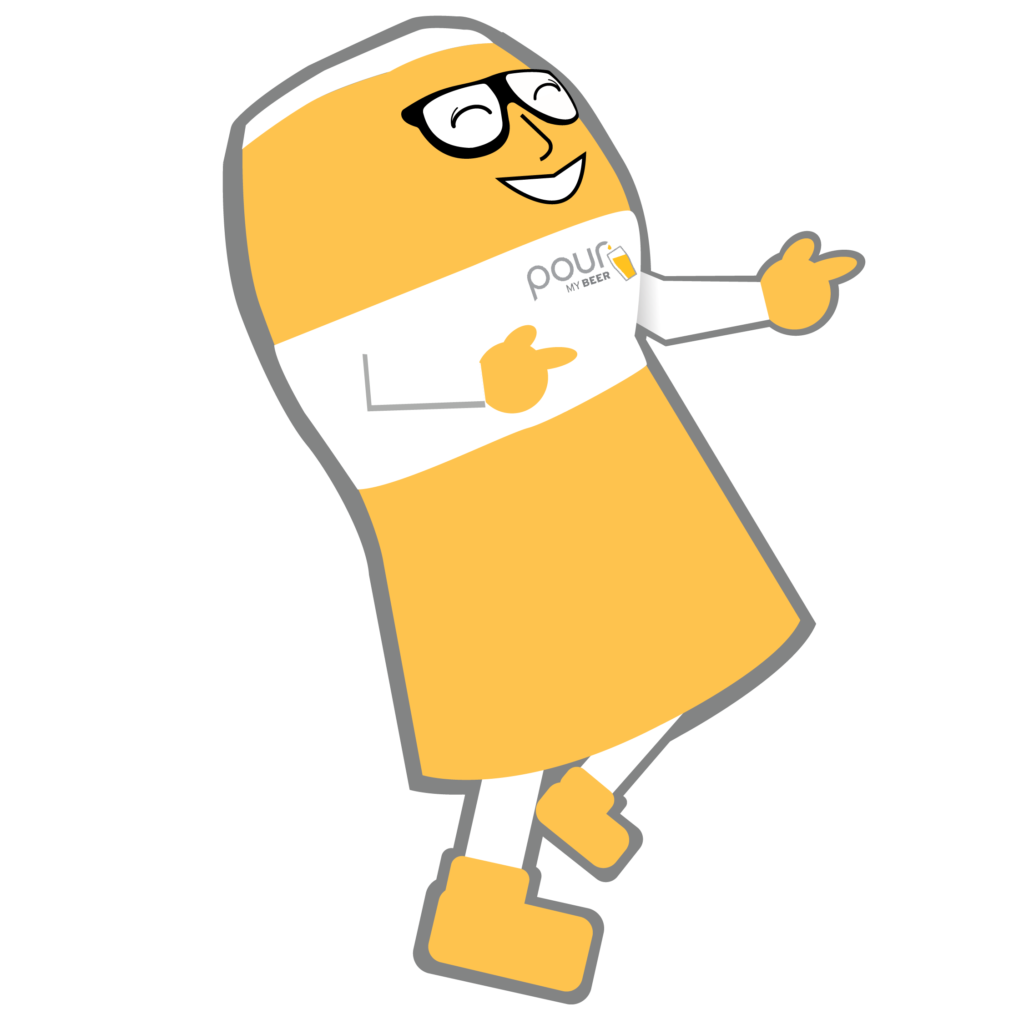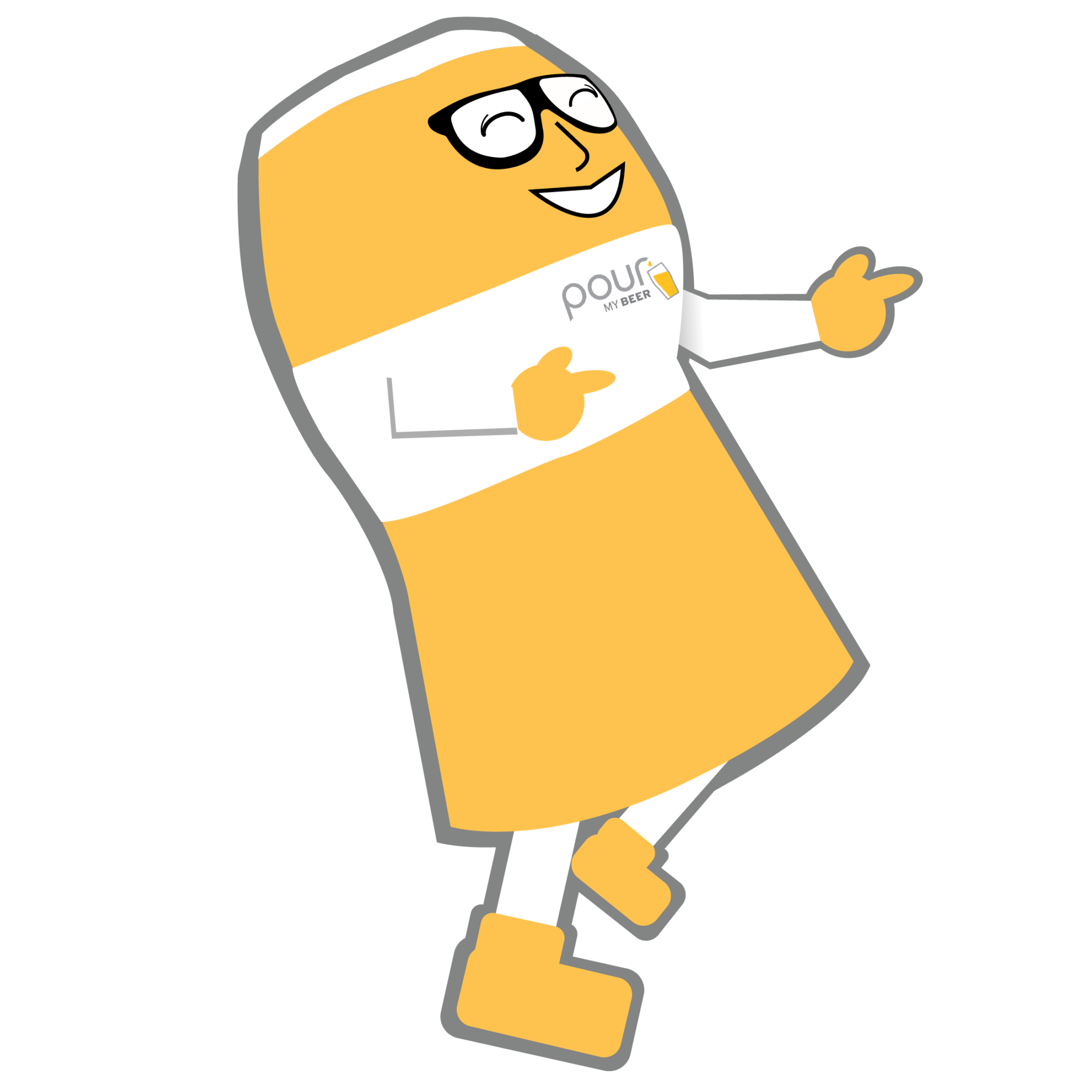 PourMyBeer Tip: Place lighthearted bar signs that make guests smile and entice them to come in. Check out these funny bar signs to hang outside of your establishment.
Everyone will be in the same boat once restrictions loosen, so you'll want to make sure you stock up on essentials, beverages, and food. You don't want to be stuck without essentials or have to run out during reopening. Think back to before the pandemic began – calculate how much of each ingredient you used and determine if that's too much or too little for the post-pandemic rush.
Also, don't forget to stock up on personal protective equipment. Masks may still be required, and guests may still want to sanitize their hands and the surfaces around them. As we know, these supplies can be difficult to find since everyone is purchasing them in large quantities, so get them while you can. You can even make branded masks or sanitizer bottles to boost your brand awareness. Guests will remember the efforts you are making to keep them safe.
10. Update Food/Beverage Offerings
During the pandemic, restaurants had to consolidate their menus due to a shortage of supplies available, less staff preparing the meals, and fewer customers dining out. When reopening, restaurants should expand their menus to give guests new and exciting items to try (and to come back for). Offer new seasonal drinks and food specials to get guests through your doors.
Many establishments found success with their menus during COVID when using local ingredients. Guests are looking to support local communities right now, and they'll love the ability to eat fresh and sustainable food. This trend will continue, so try to keep ingredients on your menu that can be sourced locally.
Since the start of the pandemic, restaurants and bars have found the most success through their off-premise services. Takeout and delivery options have been proven to drive 80% of restaurant traffic since the start of the pandemic. So, if you're not offering food or drinks to-go, you're missing out on a large portion of sales.
Nation's Restaurant News reports that big-name companies like Melting Pot knew they had to offer to-go as a way to make up for the restrictions on dining-in. They say it is a service they will continue to offer even as restrictions lift.
Even with the post-COVID rush, many diners will still be looking to order from local restaurants with off-premise options. So you must continue to promote your off-premise offerings via social media, your website, and signage outside your restaurant.
For more information on off-premise dining, click here.
When embracing the shift to digital offerings, you should consider integrating with POS systems that will make your operations more efficient and enhance your customer's experience. Here are some integrations, what they offer, and why they'd be beneficial…
If you have a self-pour beverage wall, you'll want to consider integrating with Untappd for several reasons. Untappd allows you to easily display your beverage wall offerings to guests so they can see what's on tap without having to leave their table. You'll receive analytics from Untappd that will allow you to tailor your beverage menu to your customer's preferences, and customers can connect on the app, creating a social experience. All of these benefits will help you increase your overall beverage sales while giving customers a fun and exciting experience!
Through PourMyBeer's integration with Toast, the check-in/out process is much smoother and faster. All of the customer's data is sent directly to the Toast POS, allowing customers to check-in, pour as much as they'd like, order food, and leave without having to check out with a staff member (reducing that touchpoint and saving time!). With the post-COVID rush, this integration will make things much more manageable for you as an operator. Check out how smooth the integration is below!
Keep your site relevant and up to date with your new hours of operation and policies. Guests may be uneasy about returning to normal, so make it known on your site what guests should expect when walking through your doors. Encourage online reservations so you can plan for the night ahead. It will take some time to get back into the swing of things, so urging guests to make reservations can ease the transition back to full capacity.
14. Update Website & Social Platforms
Use your social media platforms as a tool to inform guests about your new policies. Post about your new operating hours and increased capacity limits. Your social platforms will serve as a way to get the word out that you are back open and ready to have guests in your establishment. Use social media to communicate with your guests, show your cleaning efforts through videos, or post about the new policies that will be in place regarding masks and sanitation. Be sure to post images that still show your establishment following COVID rules, such as servers with masks on and guests remaining socially distanced.
Social channels are also a great place to show off your new menu items. Post beautiful pictures of food and drinks and watch guests come flying through your doors. Promote upcoming events such as trivia nights or live music to get your customers excited to dine out again.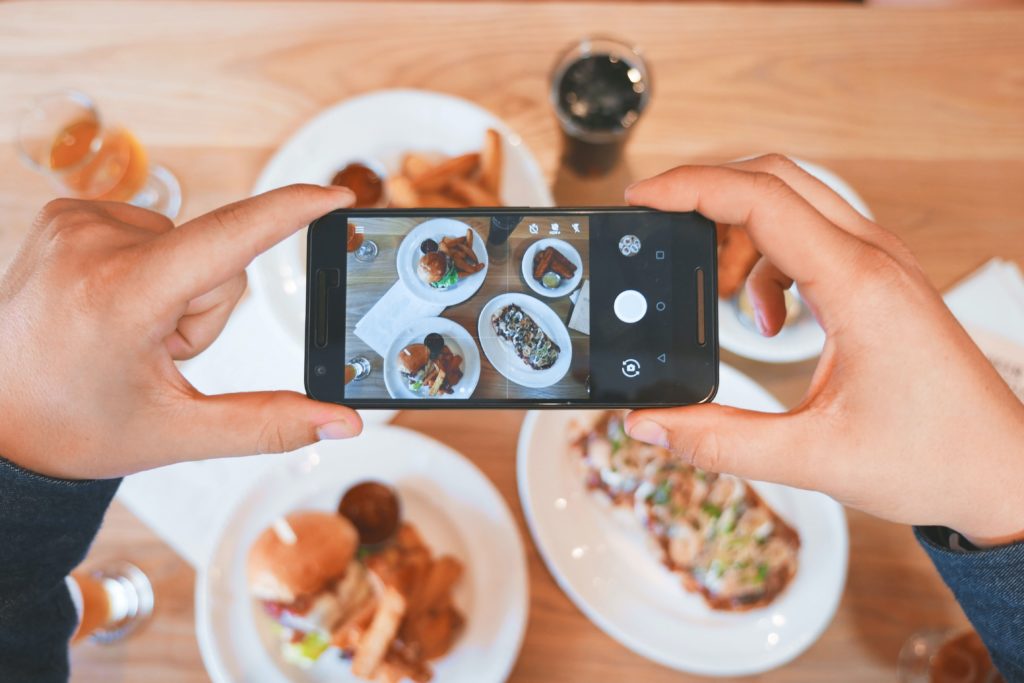 While updating your website and online presence to reflect your new guidelines, you'll also want to update your marketing efforts. Below we've included several ideas you can add to your marketing strategy to increase your brand awareness and get more foot traffic through your doors!
Just as you'll want to make updates to your menu, you'll want to update your promotions as well. Keeping things fresh as capacity levels increase is critical. With several restaurants opening back up to customers, you'll need to offer unique promotions that will drive traffic to your doors rather than your competitors.
Here are a couple of promotions that would be great to offer your customers:
Growlers – With the rise of cocktails and beer to go, many restaurants have started offering growlers to customers. Customers love that they can take home a 32 oz. growler of their favorite craft beer that they can't get anywhere else. Take it up a notch by adding your logo to your growlers as a way to market your brand! And, consider offering a discount on growlers during happy hour. This will create a bigger buzz around the promotion.
Weekly Specials

– Although restaurants commonly have a list of weekly specials, consider how you can adjust your specials to fit the needs of your customers. With things opening back up at full capacity, you could add a special night every week where meals are buy one, get one 50% off. Or, add a new loyalty program where guests who earn a certain amount of points get a free meal. Customers will take note of your specials, and it will certainly be a factor in their decision to dine/drink at your establishment.
16. Social Media Campaigns
Once you've created your strategy for the post-COVID rush and are ready to bring customers through your doors, it's time to create social media campaigns to generate buzz online! Social media is a great way to spread the word about your current operations and protocols. You'll want to prioritize cleanliness in your social media strategy so that users can see you're doing everything in your power to keep them safe. A great way to show off your post-COVID strategy is by creating videos to post on various social platforms. Videos are the number one form of content because they are easy to watch and understand, and they're visually appealing as well.
Post pictures of your staff ready to serve customers, your new food and drinks offerings, your awesome self-pour wall, and create stories with your specials of the day! All of these posts will get your followers excited that you're ready to serve them, and they'll want to come and show support. And remember to repost any pictures or videos that your customers tag you in online! There is no better content than user-generated content. So remember to engage with your followers online and continue posting to keep your customers up-to-date.
For more tips on branding your business online, check out this post to learn the best ways to embrace your online presence.
Now that your restaurant is opening back up to full capacity, you'll want to ask your customers for feedback on your post-COVID operations to ensure that you're offering the best and safest experience possible. Google Forms and Survey Monkey are great free tools that are easy to use. You can add the surveys you create to your email marketing campaigns, or even as a QR code at the table. The feedback you receive will help you see what you could improve, change, or continue doing.
You'll also want to send out emails regarding your updated protocols, guidelines, and safety procedures to keep guests informed. You can also include your new specials and promotions in these emails to pique customer interest and generate excitement.
If your establishment has a self-pour beverage wall, here are a few things to consider when operating at full capacity.
18. Beverage Wall Ambassador
Have a designated staff member assigned to the beverage wall every day. This staff member will be your "Beer Wall Ambassador" and is responsible for helping customers at the wall. Since many customers have never experienced self-pour before, the ambassador can help customers pour, educate guests about the different beverages on tap, and provide recommendations. The ambassador will also be responsible for cleaning the wall frequently and ensuring that customers feel comfortable.
Many self-pour operators who have a beer wall ambassador have seen a significant increase in sales as customers have a better experience and tend to pour more!
19. Continued Sanitization
It's more important than ever to continue sanitizing your self-pour beverage wall. With the rise in customers, many guests will want to see that you're actively cleaning the wall. When guests can see that the wall is getting sanitized, they'll feel much more comfortable going up to the wall and pouring. And, continue to offer napkin and glove stations around the wall so guests who are not as comfortable can use these when pouring.
Don't forget to share these tips with others who might find them useful!
We hope you find these tips helpful when preparing your bar or restaurant for the post-COVID rush. If you're looking for other tools and resources to guide you through the pandemic, check out our COVID Resource Center. If you have any questions, don't hesitate to contact us below!
*The recommendations above have been written to the best of our knowledge after interviewing our customers and conducting research from reputable sources, such as the CDC, WHO, and FDA. We advise you to visit their websites to stay up to date on the latest guidelines.*